---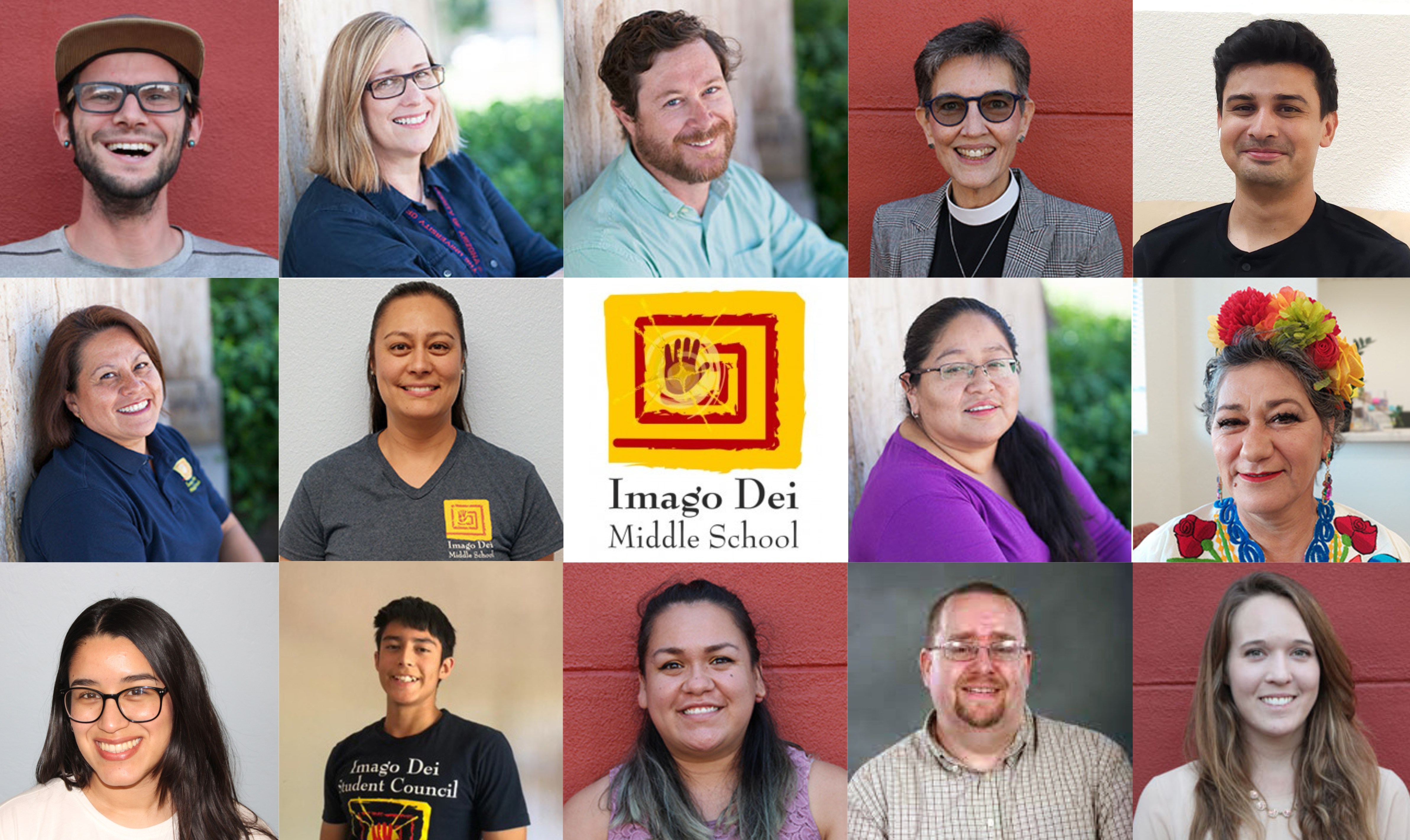 Maria Acosta is a valued member of our community helps with the Family Pantry and in our culinary class. She is the proud parent of two Imago Dei graduates and runs a thriving catering business.
The Rev. Susan Anderson-Smith (BA University of Mississippi, MDiv Episcopal Divinity School) returns to Imago Dei as Chaplain and Religion teacher. Prior to this, she served as Associate Rector for St. Mark's Church in-the-Bowery and St. Bartholomew's Church, both in New York City. She has also served as Associate Rector at St. Philip's In The Hills Episcopal Church, Tucson, AZ. With The Rev. Anne Sawyer, she co- founded Imago Dei Middle School in 2006. Her article, "Accident or Imperative? Religious Pluralism and Episcopal Schools," was published in 2011 by the National Association of Episcopal Schools in the Second Edition of Reasons for Being: the Culture and Character of Episcopal Schools.
Kitt Bret Harte (BS Cardinal Stritch, MEd Wisconsin, MEd American College of Education) is Principal. Ms. Bret Harte has more than 15 years of K-8 education experience and believes that each student offers a unique opportunity to discover brilliance. She teaches an advisory class to all grades, focusing on social and emotional growth, and mindfulness.
Veronica Carrillo (BA, MS West Texas A&M) is the school's Financial Officer. In addition to her degrees in accounting, economics, and finance, she has extensive experience in various educational settings, including three years of teaching English in Japan. Veronica believes that an education is the greatest gift anyone can receive.
Frank DiPietrapaul (BA Delaware) has a degree in plant science and is passionate about environmental stewardship, food equity and social justice. He specializes in sustainable and urban gardening in a classroom setting and coordinates the school's gardening, garden-to-table and culinary programs.
Theresa Fichter (BA, U Maryland) Originally from the DC area, Theresa is thrilled to be part of the Imago Dei staff after coming to the school as a VISTA volunteer. She co-teaches Graduate Support classes and maintains contact with IDMS graduates through a busy schedule of events and frequent check-ins. She is greatly inspired by the entire Imago Dei community.
Gael Gastelum (IDMS Class of 2021) is the school's Farm-to-School Intern. He is an honor-roll sophomore at Tucson High Magnet School.
Keyla Niebla Heredia
Randy Peterson (BAA, Central Michigan University) is the Development Officer. He brings more than 25 years of nonprofit fundraising and management experience to our team, most of it here in Tucson. When not working, Randy can usually be found with his Little Brother, at a concert or sporting event, or watching an old movie or game show with his dog Buster Keaton.
Axel Siqueiros
Peggy Solís (AB UC-Davis, MA U of Arizona) is the Family Services Coordinator. Her complete fluency in English and Spanish and her unique educational and personal experiences are tremendous assets in working with current and future Imago Dei families.
Rocío L. Suazo (BA  Escuela Nacional de Biblioteconomía y Archivonomía, Mexico City) is Director of Admissions. Her professional experience includes working as a technical archivist, and in sales and as office support for various international companies in Mexico. She has also been a volunteer at the school and is the proud parent of an Imago Dei graduate.
Cameron Taylor (BA University of Arizona) is Head of School. Cameron began his career in education as a volunteer, empowering youth to discover their voice through art. More than a decade later, he continues that work through the innovative practices and community-focused values he has helped foster and sustain at Imago Dei. Responsible for all aspects of school operations, he believes in the power, and responsibility, of a community to build the foundations from which inspired and engaged students and citizens develop. When he is not designing new school programs, he spends his time with his wife, his dog, and an exceptionally mischievous first grader. There are almost always fly rods or wood-working tools involved.

---
Mirna I Valles (BA Centro de Bachillerato Tecnológico Industrial y de Servicios No. 106, Cananea; Certificate in Speech Therapy) is the school's Family Pantry Coordinator. She is the proud parent of an Imago Dei graduate and has worked with children with speech problems and in drug prevention programs in her native Mexico.
---