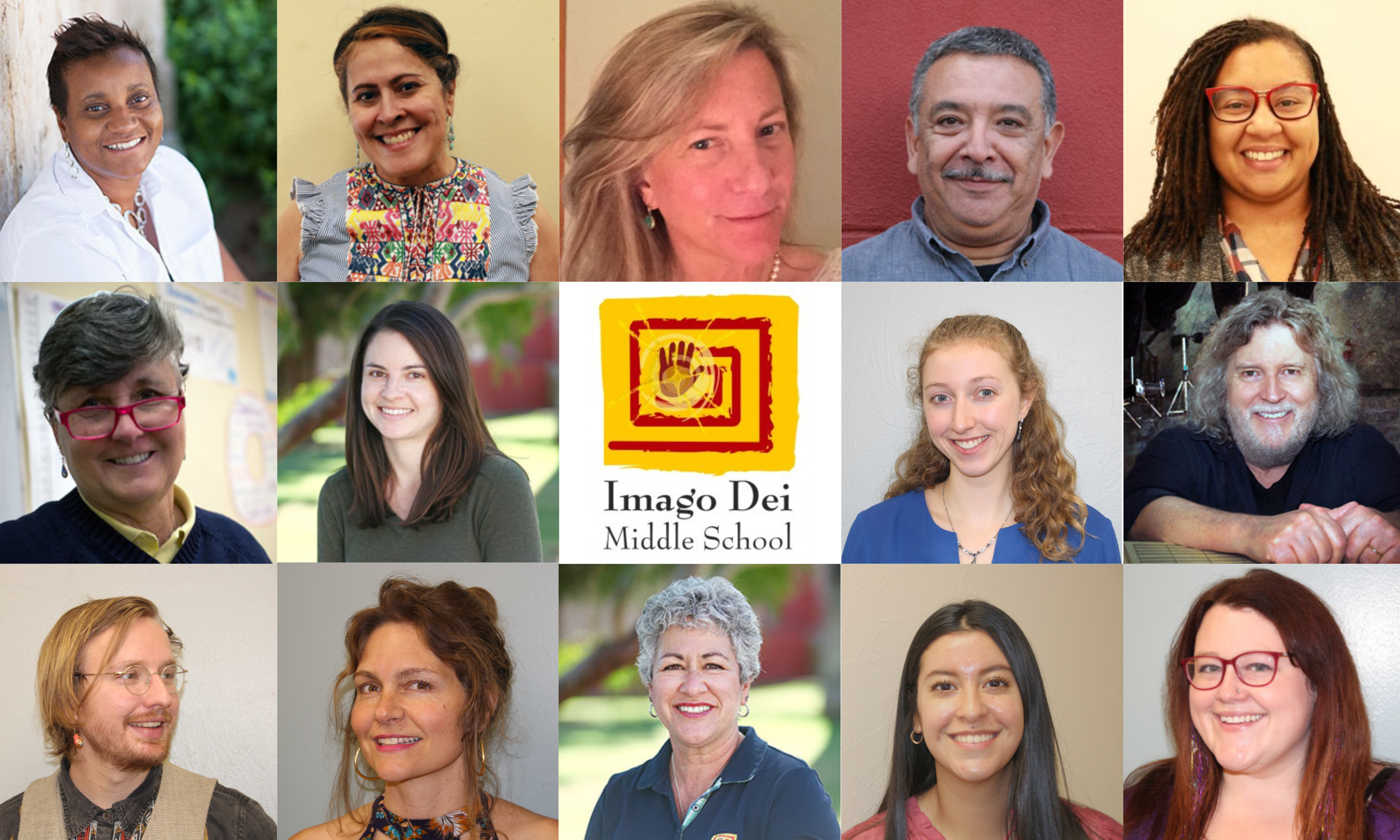 Eva Canby (BS in Physics and Astrophysics and BS in Environmental and Sustainability Studies, Northern Arizona University) teaches 7th and 8th grade science at Imago Dei. After studying physics, astronomy, and environmental sustainability at NAU, her passion for science and desire to make a difference led her to follow in her family members' footsteps and become a teacher. Eva is thrilled to be starting her first year in the Imago Dei community. In her free time, she enjoys yoga, spending time outdoors, and playing with her dogs.
Michael Chikos (BA University of Arizona) teaches 4th Grade ELA, Social Studies, and Science. Michael has worked in youth development for three years, but this is their first time teaching as a full time instructor. Michael studied Anthropology and Latin American Studies at the University of Arizona, and taught life skills and English classes in Patzun, Chimaltenango, Guatemala. Michael enjoys reading Sci-Fi and eating new foods.
Sheldon Curry (BA Baylor University) teaches music at Imago Dei. He was born and raised in West Texas and has worked in the music business his entire career. He has slightly more than 350 church music titles published, with more coming. Sheldon has taught music from kindergarten through high school in both public and private schools.
Frances Diaz (BA University of Arizona) teaches lower-school language arts. Before coming to Imago Dei, she advocated for 20 years in Guatemala women's and children's health and taught Spanish in Chicago for five years. "Audre Lorde stated that 'Without community, there is no liberation,' and that is why I was drawn to this school – its value of community and making lasting change for the students and families."
Betsy Emery (BA Colgate, MEd Lesley College/Shady Hill School) teaches 7th and 8th grade language arts. After teaching at IDMS' sister school, Bement School in MA, she now finds herself at Imago Dei. Ms. Emery is grateful to be a part of the Imago Dei community, where she is able to pursue her passion for teaching in a collaborative environment.
Elaine Garcia (BS Boston University) teaches lower-school math. She is originally from New England and has a degree in Health Sciences. Her diverse musical background includes musical theater, directing a youth choir, and playing in a blues rock band. She is also a certified fitness instructor teaching aerobics at several health clubs in the Tucson area.
Jaynelle Granados (BA, MAT University of Southern California) teaches 5th and 6th grade Science. She has spent more than 5 years working in the education space through local non-profits, supporting scholars and educators alike to ensure every student has equitable access to a higher education. Jaynelle is excited to now be in the classroom, learning and growing with our young scientists. In her free time, Jaynelle enjoys watching movies, visiting new restaurants around town and going on nature walks.
Jolene Horn studied Secondary Education: History and Social Studies in college and then by a twist of fate ended up falling in love with elementary math (which used to be her arch nemesis) thanks to her incredible mentor, Melissa Hosten, at the University of Arizona. She has found joy in teaching 4th grade for many years and is ecstatic to be part of the Imago Dei community, where she teaches 4th Grade math and is the Math Intervention Specialist for all grades. She is passionate about ALL students having a quality education. In her time off, she enjoys traveling, visiting museums, cooking up a storm, trying new coffee spots (coffee is life), and spending time with her loved ones.
Kelsey Lillmars (BA, MA University of New Mexico) is teaching Reading to 4th and 5th grade right now and supporting in other Language Arts classes. She has worked in the ELA Department for almost 10 years now! Kelsey enjoys supporting students with reading and writing and loves to watch students grow and develop these skills during their time at Imago Dei.
Jesus Salinas (FCFM Universidad Autónoma de Nuevo Leon) is our Technology Coordinator, and teaches tech skills. He has years of experience in the implementation and development of computer systems. He loves traveling and hiking, and is very passionate about learning. He is the proud parent of an Imago Dei graduate.
Susan Sloan (BS, MA University of Arizona) teaches Physical Education and is part of our dynamic Graduate Support team. Her 40+ years of experience as a teacher and administrator includes 20 years of teaching PE and 10 years as a high school associate principal.
Aiyana Smith (BA, MS, University of Rochester) (BA, MS, University of Rochester) teaches Upper School Math and is the Head of the STEM Department. She went to college to study chemistry, hoping to be a high school chemistry teacher. After working with 1st graders as a literacy coach, she fell in love with younger students and got her M.S. in Elementary Education. After working in Rochester as an elementary teacher, she moved with her husband to Tucson where she taught 2nd and 3rd grade until landing at Imago Dei. Math and science are her passion – working here is a dream come true!
Natalie Taylor (BA, University of Arizona) began working at Imago Dei in 2008 and was completely drawn in by the mission of the school. She teaches 5th and 6th grade History, and she is completely in love with bringing the past to life. This year, Natalie has taken on the role of Department Head in the Humanities, and she is thrilled to have the opportunity to work more closely with her colleagues.
Iesha Whitfield-Walker (BA University of Arizona, MA University of Phoenix) teaches history to our 7th and 8th graders. With 22 years of teaching experience, she believes that the intimate setting at Imago Dei offers her new opportunities to show her commitment to and appreciation of young scholars.