The Carriage House, 146 E Broadway – back behind Janos' Downtown Kitchen + Cocktails and facing west on Arizona Avenue – is just to the east of the G13 marker on the map above. (See photos below.)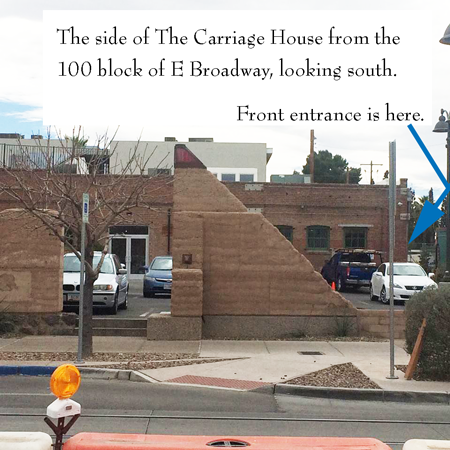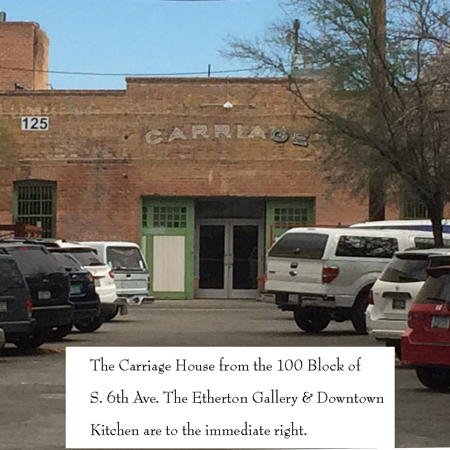 Street parking within a few blocks will probably be available. The closest lots (in green) and parking garages (in red) are indicated on the map above.
Don't Park – Take the Street Car!
The Carriage House is very convenient to the Modern Streetcar stops at 6th Ave. The streetcar route is in blue in the map above, and runs to the University Medical Center parking lot at its eastern end. (The UMC lot is unrestricted evenings and weekends.) Another popular parking area is at the western end of the street car route, west of I-10 and the river at Mercado San Augstin. For complete information on riding the street car, please consult SunTran.
Parking Garages
Three large city garages are within three to four blocks of the restaurant – (1) Centro, 345 E Congress, (2) Depot Plaza, 45 N. 5th Ave, and (3) Pennington, 110 E Pennington (entrance on Scott Ave.) They charge $5 on weekend evenings. If you have special needs with respect to parking for the event, please call the school at 882-4008 at your earliest convenience to make arrangements.
For more information about parking downtown, please consult the complete ParkWise guide, or call 791-5071 (237-7076 after hours).
Map courtesy of ParkWise.